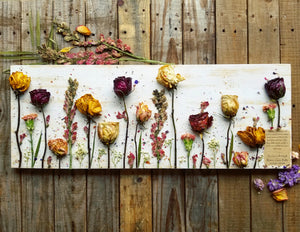 All Occasions- Extra Large- 11" x 30" Flower Field
Regular price $400.00 Sale
11" x 30" wooden board
Layout: Flower Field (if a bouquet design is wanted instead, please let us know in "Notes to Seller")
Hole on back to hang
Looks great vertical OR horizontal- choose your favorite by letting me know in the 'Notes to Seller'
Color Options: white-wash, grey-wash, light stain, medium stain, or dark stain.
Potential Risks When Ordering Wooden Presses:
Wooden presses are more at risk to be damaged by certain types of bugs that are attracted to dried flowers and other dried products. This is a rare issue that we have only seen a handful of times (.001% of the pieces we have created), but we still want to keep you informed of the possibility. Though we treat every flower for bugs and put a top coat on all of our pieces to seal them, it's still possible for bugs of this kind to get into your press at any time. Please click here for the full list of risks associated with wooden presses.