FEATURED COLLECTION | bridal & wedding
STUDIO ADDRESS | BY APPOINTMENT ONLY :  116 Fountain Bend Drive, Lafayette, LA 70506, Suite B 
Please email us at petalpressdecor@gmail.com to schedule a drop-off | MON-THURS between 9am and 4pm
Shipping your flowers? Email us for the shipping address, as it is different than the one listed above.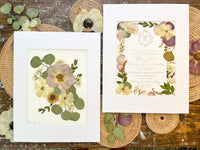 Paper Press Bridal Set
A beautiful and timeless way to display your bridal bouquet and wedding invitation.
Paper Presses are the most classic way to display pressed flowers, so you'll admire this timeless look for years to come. 
SHOP NOW
Minimalist Bridal Bouquet
Inspired by simplicity, these double-glass frames feature pressed flowers and foliage designed to show the best of your bridal bouquet. Truly unique and one-of-a-kind!
Different frame options available.
SHOP NOW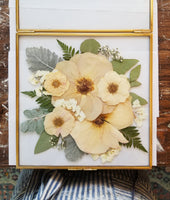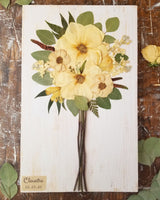 Custom Bridal Bouquets
Designed to be a constant reminder of your wedding day & all the love shared within it. Flowers can be fresh or dried for years! (size: 11" x 18")
Personalization of your choice is also available!
Bouquet Preservation | shop now
Petal Press Pendants
Petal Press & M Collectives Collaboration
Petal Press Pendants are a unique way to preserve flowers or greenery from any special occasion (wedding, baby, funeral, anniversary, etc). Flowers can be given to us fresh OR dried, making these the sweetest keepsake for you and your loved ones!
SHOP NOW