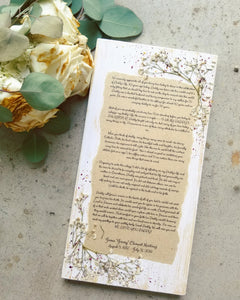 Eulogy - 7" x 14"
Regular price $120.00 Sale
A custom design with a typed eulogy in memory of a loved one. I can use flowers from the funeral to add to the piece, or flowers/sprigs that I have on hand. 
7" x 14"

Please email a typed version of the eulogy to petalpressdecor@gmail.com so I can copy and paste with no chance of typos -- If a screenshot or photo version is sent and you will need for me to type the eulogy, there will be an additional charge based on the length of the eulogy.

Can use personal flowers or flowers that I have on hand (such as Baby's Breath)
hole to hang on back
If needed by a certain date, please let me know in the 'Order Notes' section at checkout.
Potential Risks When Ordering Wooden Presses:
Wooden presses are more at risk to be damaged by certain types of bugs that are attracted to dried flowers and other dried products. This is a rare issue that we have only seen a handful of times (.001% of the pieces we have created), but we still want to keep you informed of the possibility. Though we treat every flower for bugs and put a top coat on all of our pieces to seal them, it's still possible for bugs of this kind to get into your press at any time. Please click here for the full list of risks associated with wooden presses.